Summary
The symposium is open to graduate students and senior undergraduate students. There is no registration fee. The purpose of the symposium is to encourage the students to enjoy scientific discussion and cultural exchange with each other and with professors in an informal atmosphere; so, do not hesitate to speak English!
The symposium will consist of invited lectures by professors in the morning and contributed posters with short talks by students in the afternoon. Students are especially encouraged to participate and give poster presentations.
In the evening, we will have a sociable session, get-together, where one can introduce his/her lab and university using a few slides.
Although one-day symposium, various satellite meetings are also planned. Hope that the participants will enjoy them as well.
Venue
International House, Minami-Ohsawa Campus, Tokyo Metropolitan University, Tokyo, Japan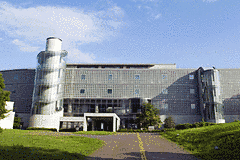 International House
Date
29 January, 2016
Organized by:
Department of Physics, TMU
Department of Chemistry, TMU
Sponsored by:
TMU Program for Enhancing the Quality of University Education
Graduate School of Science and Engineering, TMU
Department of Physics, TMU
Department of Chemistry, TMU
Molecular Catalysis as basis in Green Sustainable Chemistry for Environmentally Benign Urban Life
Tokyo Metropolitan Government "Asian Human Resources Fund" (International Student Special Selection at TMU)
SAKURA Exchange Program in Science, Japan Science and Technology Agency
Timetable
Updated on 20 Jan.
09:00-09:05

Opening Address: T. Sumiyoshi (The Vice President, TMU)

09:05-09:30

Nisanart Triphol (Chulalongkorn University)
"Polydiacetylene/zinc oxide nanocomposites for colorimetric sensing applications"
Presider: K. Nomura

09:30-09:55

Ayaho Kobayashi (Dept. Chem., TMU)
"Structural studies of Nrd1, a multi-domain RNA binding protein in solution"
Presider: M. Mishima

09:55-10:20

S. Abraham John (Gandhigram Rural Institute)
"Fabrication of gold nanoparticles modified electrodes and its electrocatalytic applications"
Presider: M. Hada

10:20-10:45

Pragya Bhatt (Inter-University Accelerator Centre)
"Bond rearrangement reactions in ion-molecule collisions"
Presider: H. Shiromaru

10:45-11:00

Coffee Break

11:00-11:25

Magnus Axelsson (Dept. of Phys., TMU)
"Observations of astrophysical black holes"
Presider: T. Ohashi

11:25-11:50

Auttakit Chatrabhuti (Chulalongkorn University)
"Cosmic inflation and quantum gravity"
Presider: T. Sumiyoshi

11:50-12:15

Genevieve Hublet (Dept. of Chem., TMU)
"Early solar system chronology: a study of 26Al-26Mg isotopic system in a chondrite"
Presider: Y. Oura

12:15-12:40

Normann Mertig (Dept. of Phys., TMU)
"Nonlinear dynamics and chaos -- From the planetary system to micro lasers"
Presider: A. Shudo

12:40-14:00

Lunch

14:00-15:50

16:00-17:50

18:00-20:00

Sociable Session
Poster Presentation
List of poster presentations can be found here.

In the poster session, we ask all the poster presenters to give 1-minute short talk before the poster presentation.
Please send slides for this short talk to the symposium organizer before 26 January 2016
(symposium organizer: tanuma_at_phys.se.tmu.ac.jp
[replace _at_ with atmark])

Posters of A0 size are preferred to be arranged in portrait format, approximately 119 cm high by 84 cm wide.